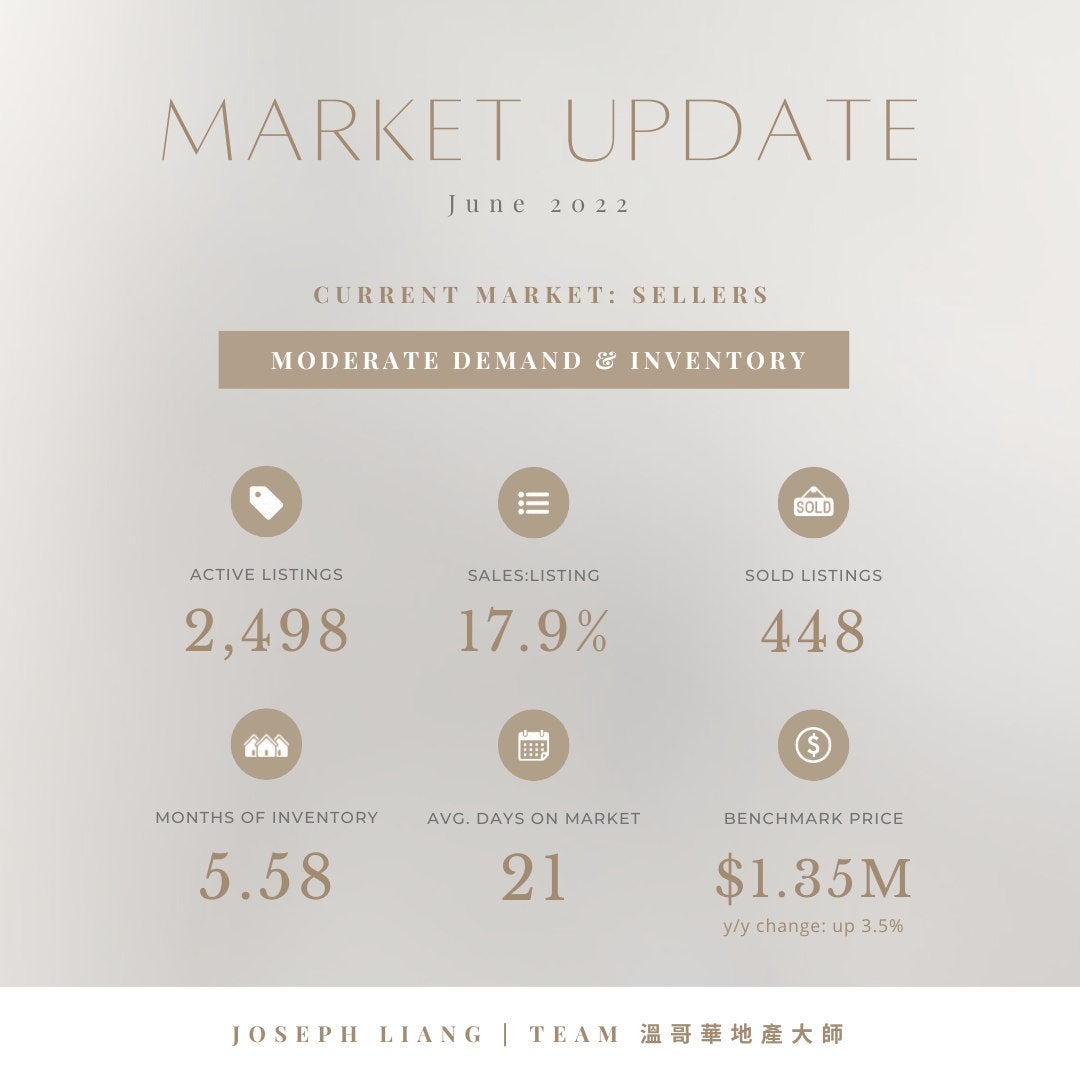 Yes, we'll talk about the elephant in the room.
Interest rate. Last month, Metro Vancouver's real estate market reacted to the interest rate hikes by pumping out less transactions. We were actually at a whopping 23% drop below the 10-year June average. The month ended with only 2,444 homes changing hands on the MLS.
For now, we are not noticing big effects on home prices. At 23.4% sales-to-active listings ratio, we are technically still in a "seller market" as per the real estate board. However, the MLS Home Price Index has quietly
started to dip
.
Is the trend going to continue? Likely.
Just when we're still catching our breath from the
June rate hike
, Bank of Canada is now forecasting a
0.75% rate increase
to be implemented today as part of their aggressive approach to tame inflation. And if all goes well,
another Jumbo-Sized hike is coming in the fall
. (edit: the BoC ended up doing a 100-basis-point increase!)
The housing market won't like this aggressive monetary policy. Outside of BC, the national home resales has already
dropped
below pre-pandemic levels. As the real estate sector contributes to more than 10% of the
Canadian GDP
, an overaggressive approach may turn out to be a double-edged sword.
If we look beyond our borders, however, we'll find that we are not alone in this issue. Much of the inflation is a product of global factors, from bottlenecked supply chains to high demand from to consumeristic countries. A lot of other nations are facing a real threat of stagflation. In the US, industry related
layoffs
are a real thing and already
happening
. The Chinese real estate market has been stumbling left and right since the pandemic, and
doing even worse
right at the moment.
In relative terms, the Canadian real estate market has been coping well. This should explain why the BoC feels confident enough to introduce the successive rate hikes. In the long run, this short term pain is going to keep the housing market in check and in good health. There, I've managed to find myself on a positive note, and it feels like an apt place for an ending.
Market will always come and go. Whether you are planning on selling, on buying, or just sitting put, keep in mind that wherever the market might be heading, it is beyond our control. The best thing we can do, is to make the most well-informed decision based on the current market condition and our personal situation. To quote Tony Horton, "Do your best, and forget the rest!" Hope you have a great month of July. Talk to you again soon!
Your Favourite Realtor
Joseph Liang
7/13/2022
LINKS
2022 JUNE STATS PACKAGE